If you see a Garda on the beat in Dublin with an extra spring in his step over the coming weeks and are wondering just what is going on, there is a good chance it is Benn Gallagher who is still on a high after conquering Kilimanjaro.
Not only did the Mountjoy-based Garda climbed the world's highest free-standing mountain, but he raised funds for one of Ireland's leading mental health charities, GROW Mental Health Recovery, in the process.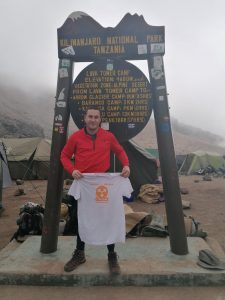 Already Benn has raised just under €1,500 but is still working on achieving his target of €2,000 for the charity that helps people on the road to recovery from a variety of mental health challenges through its weekly community-based meetings. You can donate at www.idonate.ie/Benngkili2020.
Originally from Walkinstown, Benn was inspired to take on the challenge after struggling with his own mental health issues and the desire to help others find their path to recovery.
"Kilimanjaro is the highest free-standing mountain in the world and I suppose it felt that I had my own mountain to get over. I had seen other people, including celebrities, climb it and I just thought I would give it a go.
"I made the decision in February of last year as I wanted to do it before I reached 30, so I just got down to training straight away," explained Benn.
Preparation included hiking, walking and cycling along with climbs of the likes of Croagh Patrick and Carrauntoohill. However, it was on another of Ireland's famous peaks that Benn's ambitions were almost dashed.
"On September 22nd last year I was climbing Benbulben when I fell and tore ligaments in my ankle. I was off work for three weeks and that put a bit of dent in my training but thankfully it healed and I got back on track," added the 29-year-old who make the trip to Tanzania before joining up with his group.
"There were people from all over, including Germany, Australia and England, along with the local guides so it was really a great group who encouraged each other the whole way. We started the climb on February 3rd and there is no doubt that it was a challenge over the five days but fortunately I didn't suffer too much from altitude sickness.
"I did get a bit of nausea on a couple of days while the toughest day was undoubtedly the climb to the summit. We set off at Midnight and reached the top around 6am before spending about 15 or 20 minutes on top. It was a fantastic feeling to have reached the top but with temperatures ranging from -16 to -20, you wouldn't want to stay too long," explained Benn who then had to face the trek back down the mountain.
"I don't think it has really sunk in just yet but I am delighted to have done it. I am already thinking of taking on another challenge next year," he added.
"It was great to be able to raise funds for GROW because of my own experience of mental health issues and also that fact that my aunt, Mary McKay, is a volunteer with GROW in Tallaght. They do wonderful work in communities across Ireland in helping people on the road to recovery," continued Benn.
GROW Mental Health recovery is a community-based mental health service that is available right across Ireland. The advantages of GROW is that it free and because you don't need a referral you can get immediate access to support.
Members, who attend weekly meetings in a community setting are helped to recover from all forms of mental breakdown. The peer-support group helps people who suffer from depression, shyness, anxiety and panic attacks, along with those experiencing physical and financial difficulties, through the support the members give each other from their own experience in matters to do with mental health.
To find out more about GROW Mental Health Recovery visit www.grow.ie and to donate to Benn's challenge https://www.idonate.ie/Benngkili2020