One of Ireland's most popular entertainers, John Spillane, has answered the call to help a charity get back on its feet after a fire in their Cork City office caused severe disruption.
John has generously come to the aid of GROW Mental Health Recovery by offering to perform at a fundraising concert on Friday February 21st in An Spailpin Fanach on South Main St in Cork.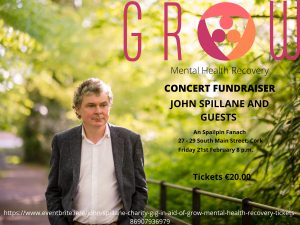 He offered his services after the organisation that helps people recover from mental health issues suffered a fire in its Cork offices in November.
GROW Mental Health Recovery, a community-based organisation that helps people recover from mental health issues, suffered the damage in an over-night fire on November 12th. As a result funds are urgently needed to repair the damage at the offices to allow GROW carry out their vital work across the county.
John, a Cork native and award winning singer/songwriter has a large following and it is expected that this concert will be a huge attraction for his fans.
Tickets are just €20 and available from Eventbrite at https://www.eventbrite.ie/e/john-spillane-charity-gig-in-aid-of-grow-mental-health-recovery-tickets-86907936979.
Local GROW Area Co-ordinator, Finola O'Callaghan called on people in the Cork to support to the organisation at what promises to be a great event.
"The fire was a huge blow to us and a lot of work will be needed to repair the damage, so we are calling on people in the area to lend their support to allow us to continue offering this vital service. We have always been able to rely on the generosity of the people in GROW in the past and I am sure they will get behind us once again.
"We are hoping that people will come along on the night to enjoy the fun, while we are also appealing to individuals and businesses to make donations to help us with the costs", added Finola.