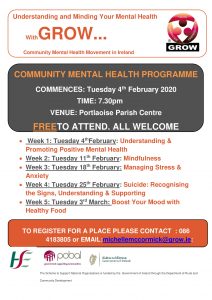 Are you living in or near Portlaoise and would you like to learn more about supporting your mental and emotional well-being or providing support to others?
A free five-week Community Mental Health Education Programme is being run by the mental health charity, GROW, in conjunction with the HSE, entitled 'Understanding and Minding your Mental Health' and commences in Portlaoise Parish Centre on Tuesday February 4th.
Over the course of five Tuesdays, a variety of topics will be explored. All sessions take place at 7.30pm and are free of charge. Those interested can attend one or all nights.
The aim of this programme is to promote community awareness around mental health issues and to open up discussion and inform people about supports.
Contact:086 4183805 or email:[email protected]