GROW Mental Health Recovery in Galway held their first CEP talk in Galway City Library on Wednesday February 5th.
The topic was "Recovery and Recovery Education" and was given by Galway Recovery College Peer Educator Virginia Moyles.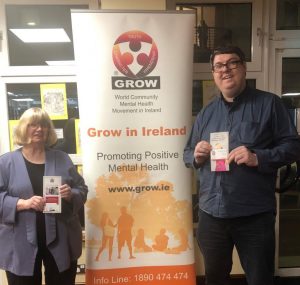 There were 23 in attendance and Virginia opened up the talk to get a lot of input from the audience members.
Many stated it was the first time they heard of GROW and were frustrated that they and their family or friends had never been given the suggestion of peer support when they were interacting with the mental health services.
Area Co-ordinator Alan Keaveney gave an introduction to GROW before the main talk and also gave a preview of the remaining four talks which will continue on Wednesday nights from February 12th.
(i) "Counselling & Psychotherapy" by Sandra Hannon and Laura Condon of affordable 1-to-1 counselling service "Let's Get Talking Galway"
(ii) "Life-Coaching" by Aisling Keane
(iii) "Re-framing Autism" by Danni Burke
(iv) "Coping with Grief" by Maureen Casey of Bethany Bereavement Support Group.
All sessions take place from 6.30pm to 7.30pm and are free of charge. Those interested can attend one or all nights. Contact Alan on 086 4177726 or [email protected]
Pictured are Virginia Moyles, Peer Educator of Galway Recovery College and GROW Area Co-ordinator Alan Keaveney