We celebrated the official launch of the new look and program book
The year got off to a promising start with the official launch of Grow Mental Health's new look and program book on January 27th. Due to the Covid-19 restrictions, this launch took place online, with the release of a branding video, followed by a short celebratory video on the new program, which included a wonderful collage of staff, members and friends holding up their favourite pages.
It was a day of hope, wisdom and encouragement, which was preceded by the sharing of the five determinations from the Grow Program on social media. The spirit of the organisation was captured in the photos and quotes which were shared by our members and friends- highlighting just how important the program is to everyone in their daily lives.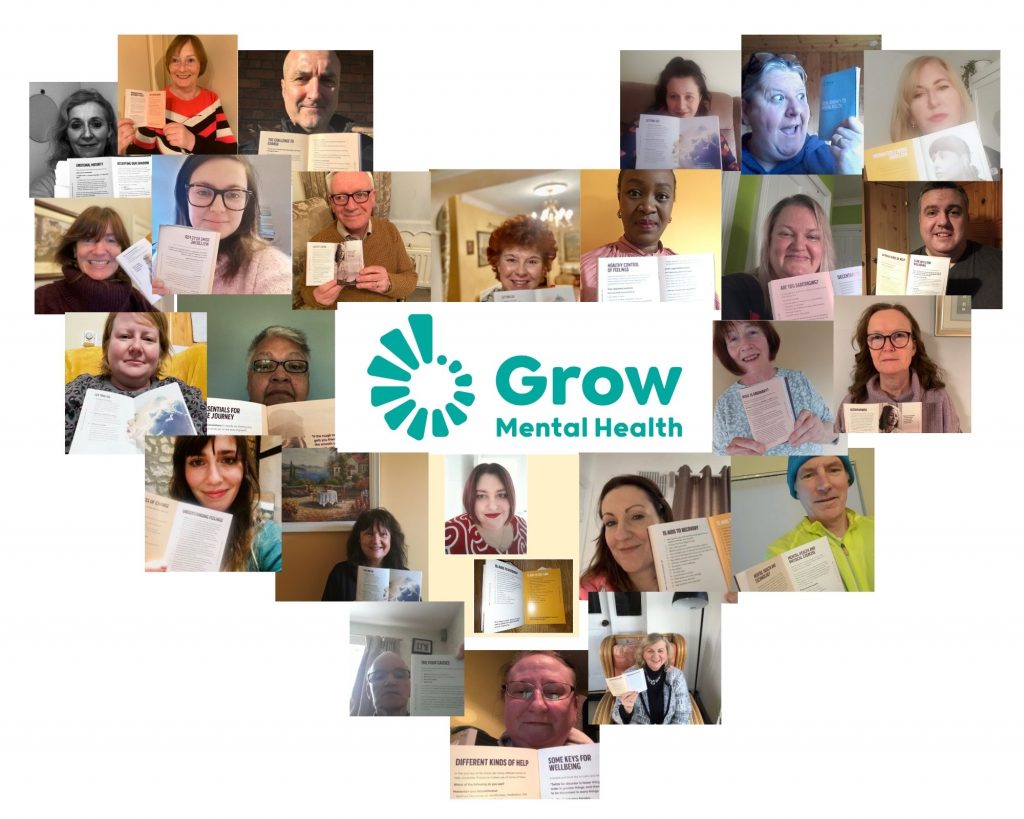 The heart of Grow is our people and our program. This collage captures the many faces and pages that have helped us on our journeys. A BIG thank you to all staff, members and friends of Grow who sent in their photos to make up this beautiful collage. As you can see, every piece of this puzzle matters and has an important part to play, so we're very glad that you joined in!
Minister for Mental Health, Mary Butler, holding the new Grow Program.
Our launch was also celebrated by Minister for Mental Health, Mary Butler TD, who held up our program with great pride as a mark of support. This image was also shared online on launch day and received a great response from our followers.
Grow Mental Health would like to thank all who got involved in the celebration of this monumental moment for the organisation. We have now been launched into a new year with a new sense of hope and friendship for the future.
Inspirational people who are raising funds on our behalf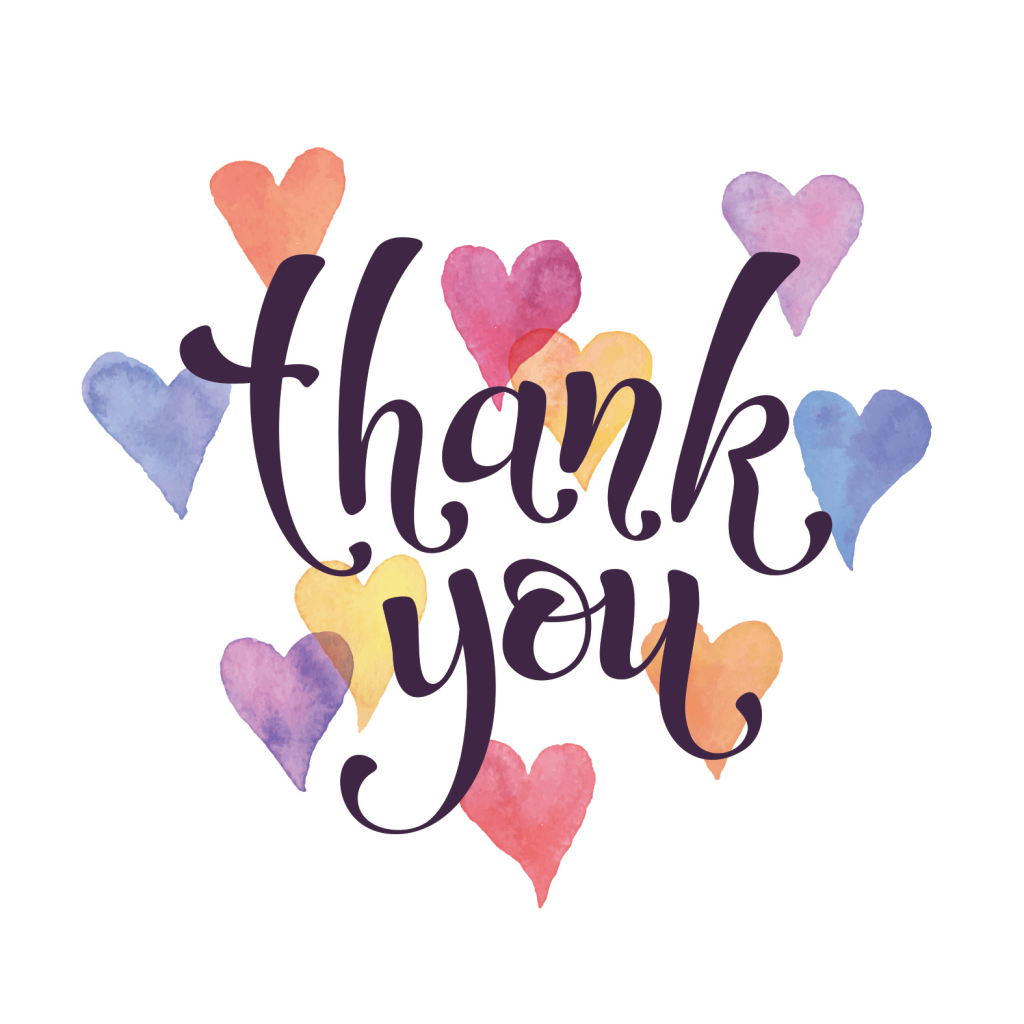 Lauren Ross – a.k.a Lauren of Ireland on Instagram – walked 300km in December to raise €1,500 for each Grow Mental Health and Aware- almost €3k raised in total. Her uncle sadly passed away in 2007 but she knew his Dundalk Grow Mental Health Group had been a massive support to him during his life and she wanted to give something back! She walked 15km some days and documented her whole journey on Instagram.
Thanks so much Lauren, your support has made such a different to us!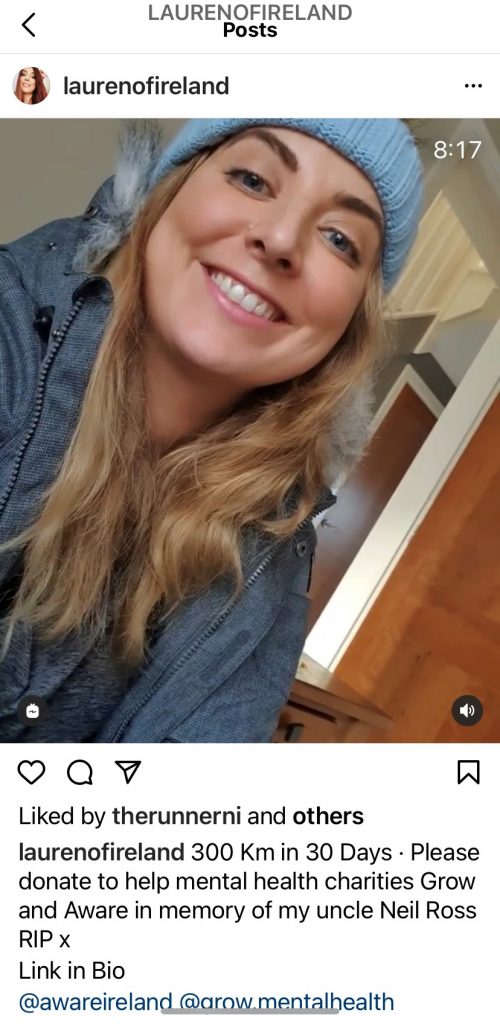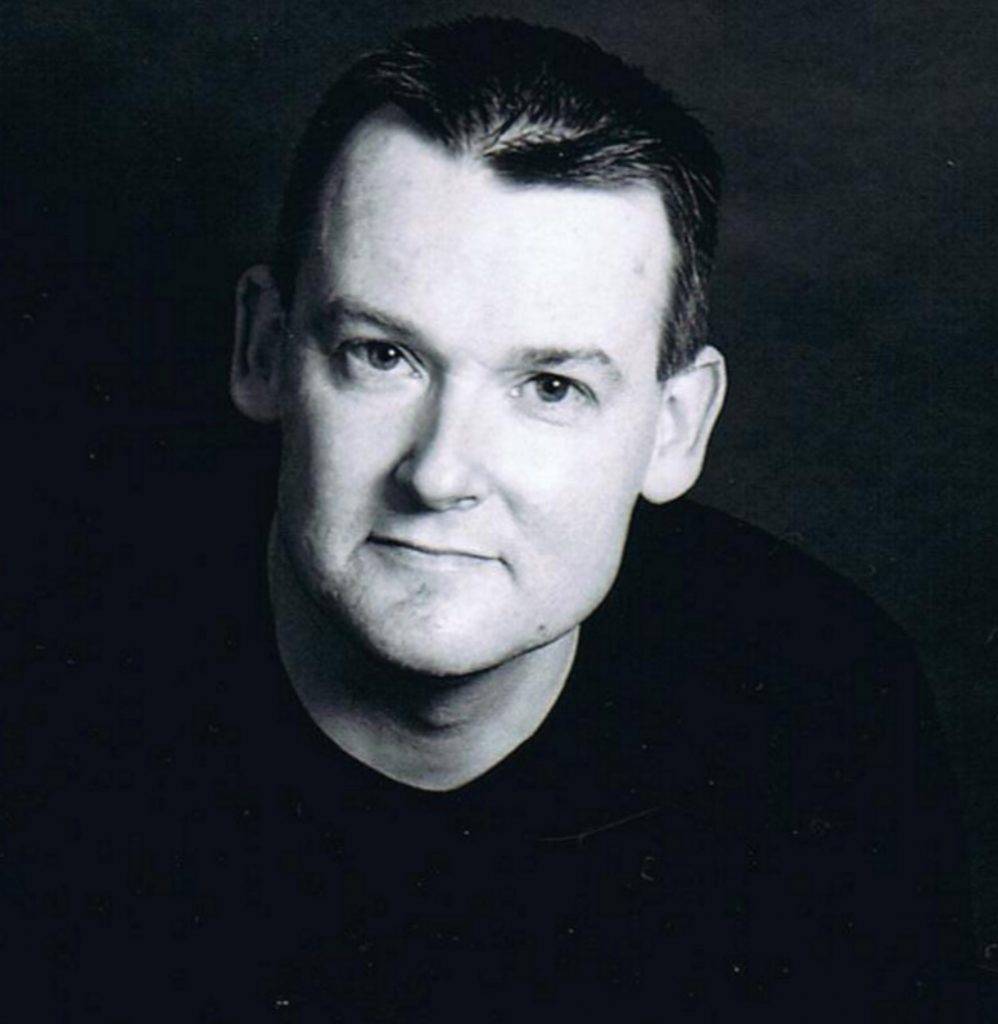 Brian Kennedy is a great writer who is donating €1 of the sale of every Bagatelle book to Grow Mental Health. He has been interviewed on several national stations recently and has taken these opportunities to highlight his fundraiser initiative for Grow Mental Health.
A big thank you to Brian, we really appreciate all you have done, and continue to do, for us.
Bank of New York Mellon SD Team
This wonderful team raised in excess of €950 for Grow Mental Health and ST Francis Hospice by committing to walk 100km in January.
A huge well done to all involved and thank you for supporting the work we do with those struggling with mental health challenges.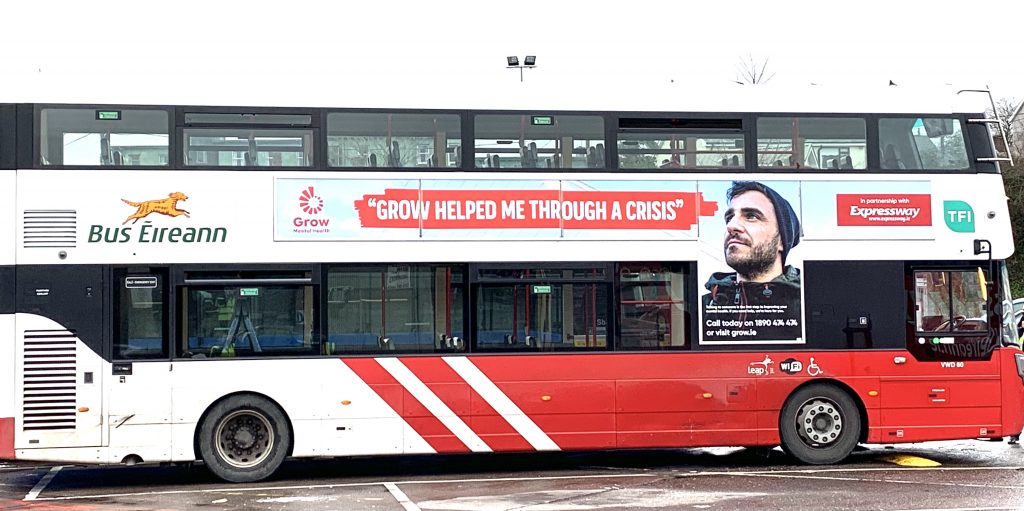 Following on from our fantastic joint Christmas Campaign, Bus Eireann's Expressway has supported Grow Mental Health again with free advertising on a number of double decker buses in Galway, Waterford, Cork and Limerick.
To the fantastic team in Expressway, your support and encouragement has been amazing- thank you for your dedication to our worthy cause.
A series of national community events to revive that Friday feeling!
In these days of Covid and lockdown we are all suffering from a lack of outlets and opportunities to socialise. Therefore Grow Mental Health is planning to hold a series of National community events on Zoom to help us all to avoid isolation. It is intended that these will take place monthly. In January, we started a Public Speaking course for Growers.
The next event will take place on Friday February 26th at 7.30 pm. It will be hosted by Mike Watts and will be a Storytelling night. All are welcome to attend. It will be an open invitation event, the details of which will be available the week beginning February 22nd.
Creations by members to inspire us on our mental health journeys
Freestyle embroidery by Catherine, Charlestown Group
"Sit in the garden for 10 minutes every day to clear the cobwebs. The natural light is very good for you. I do some of my best embroidery in the garden."
Sandycove Harbour in February
Sea swimming, summertime and wintertime (to borrow from a song), are increasingly being recognised as simply a very healthy thing to do and no better place than this picturesque beauty spot.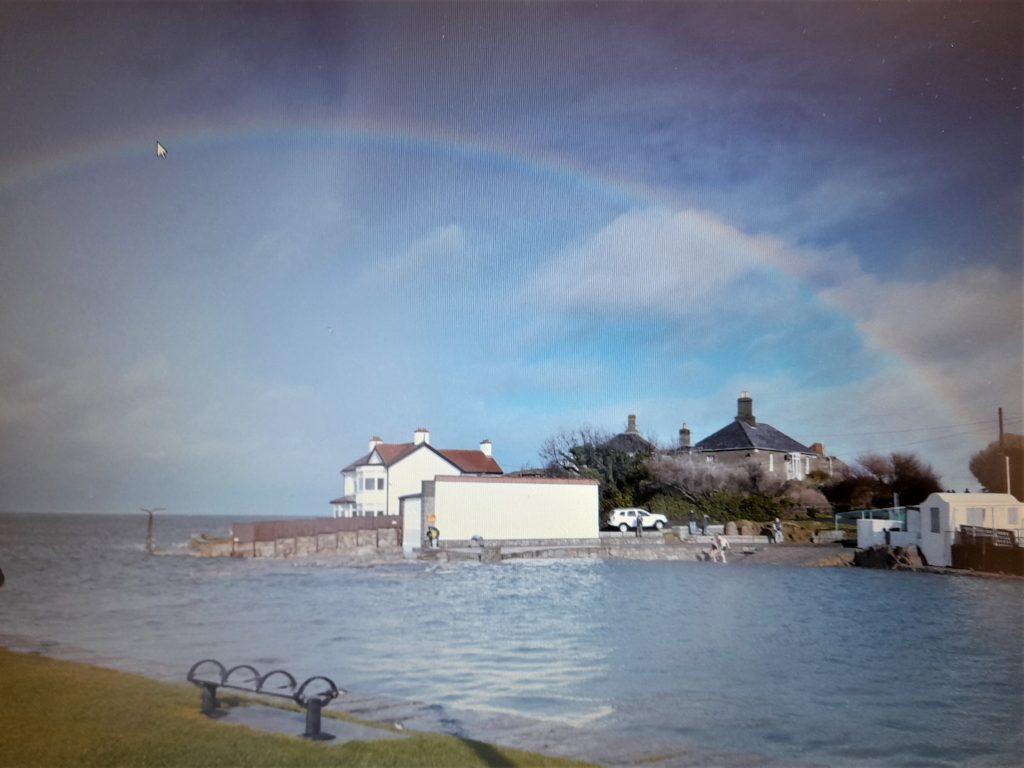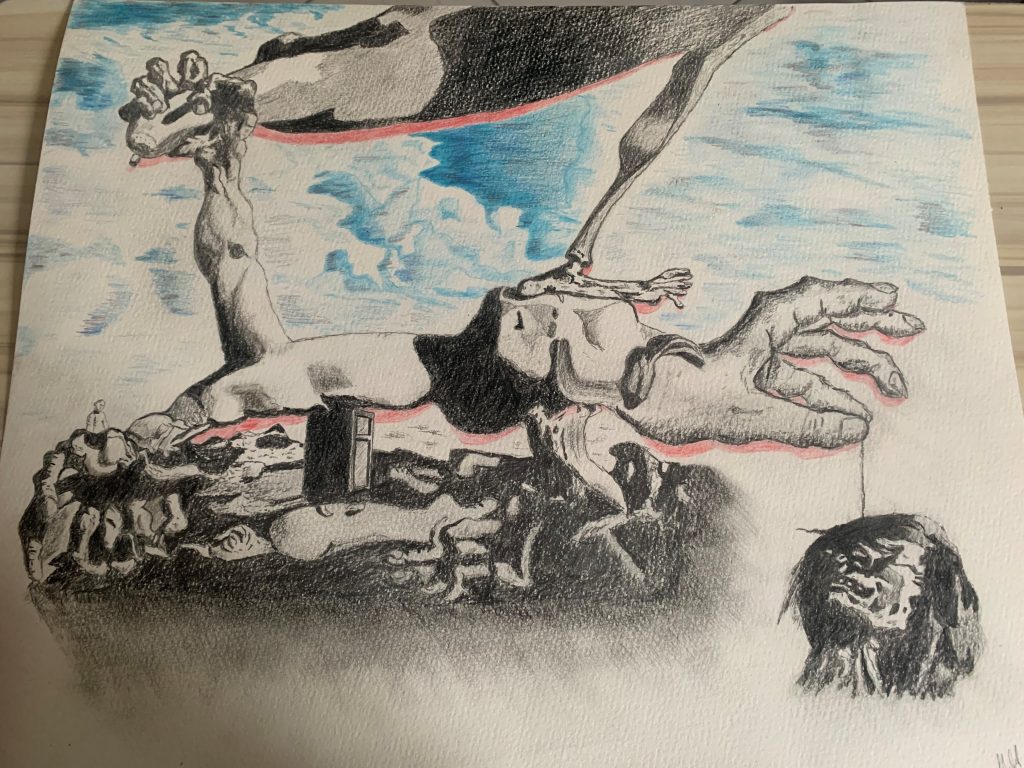 Drawing by Andy McLelland
'This piece is based on Salvador Dali, whose work I respect greatly even though he was barking! If anyone asks me to describe it, the only thing I can think of saying is 'Mindf**k, haha!"
Submit to The Grow Gallery
Budding artists or photographers are encouraged to submit photos of their work to be included in the monthly newsletter. If your photo or art is in any way connected to mental health or is therapeutic in some way, please click link below or send it to newsletter@grow.ie with a title and caption.
Volunteer Coordinator Role
Grow Mental Health is currently seeking to recruit a
Based in one of the Grow offices nationwide and working from home (in present times) Closing date for Applications is Sunday 21 February 2021
Grow Mental Health is Ireland's largest community-based mental health organisation and has been helping people on the road to mental health recovery for almost 50 years. Grow provides a safe place where people can tell their story in a confidential and friendly setting. Using a world renowned program of recovery, based on a 12 step recovery model, our members meet weekly, establish friendships and begin their unique journey towards mental wellbeing. Meetings are free and confidential. Besides weekly support meetings, Grow also offers free community, workplace, carer, and young adult education programmes.
The main purpose of the Volunteer Coordinator is to ensure Grow has enough volunteers to fulfill its service mission. To meet that goal, the Volunteer Coordinator must perform a variety of duties involving support recruitment, training, providing mentorship and guidance, resources, recognition and program planning to ensure that Grow's objectives and goals are met.
Grow have many volunteers in our community: This list is not comprehensive
The Board
The Program Team
Regional Teams
Organizers and Recorders
Panel Personnel
Occasional Project volunteers
Fundraisers
A little bird appears to awaken me at sunrise.
Could it be an angel from the heavens in a disguise?
This little bird comes to tell me everything will be fine.
Cheers me up with its chirpy sounds, when I feel like crying.
It's like a magic word,
Or a secret of a little bird,
It never seems to fly away,
Always around when I pray.
A little bird told me love could be here to stay.
All the other birds have gone, all flown away.
This little bird is trying to let know its secret to tell.
Taking me away from reality, under its magical spell.
I never hope I see the day,
A little bird will fly away,
I want to fly on its wing,
Making my heart sing.
A little bird is there rain, hail or snow.
Easing my pain helping me relax and let go.
I'm on my own it seems to be my only friend.
Having faith a little bird is there till the very end.
Nothing is concealed or obscured,
When it's me and a little bird,
My little bird I love you so,
On my windowsill to and fro,
A little bird, your my imagination and help me to cope with what's real,
With you by my side I feel I have been delta hand of a perfect deal.
I love it when you bounce and bop,
Or when you're still on a tree top,
A little bird always come but never go,
Every day you put on the perfect show.
Sometimes it seems almost strange,
A little bird has helped me change,
My heartaches knowing you will not always be there,
A little bird thank you for helping me live and become aware.
A little bird, a little bird, a little bird,
Without you I couldn't listen or say a word.
My little friend, my little bird,
A little bird, my friend, a little bird.
Let's Talk, Mental Health
Tuesday, February
9th 7.30pm - 9.30pm
Hosted by the Westmeath region Funded by The HSE
Contact for Zoom link
An
INFORMATIVE
and
EMPOWERING
evening, filled with facts and tips to help us look after our own mental health and those around us.
Assumpta
Lyons
Grow Mental Health, Co Offaly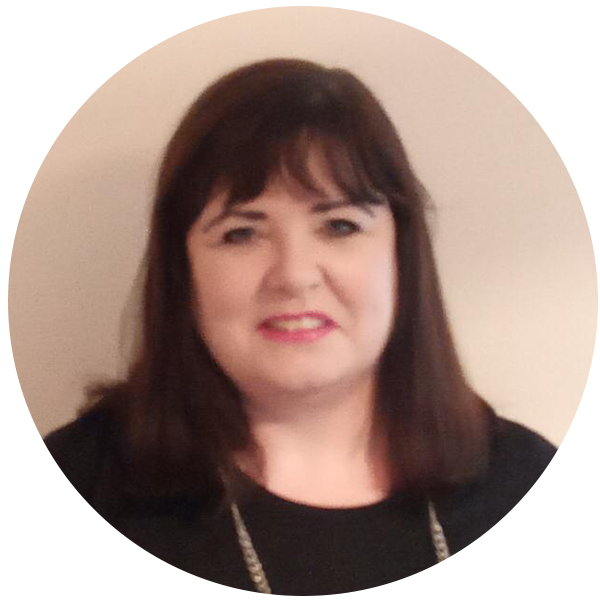 Michelle
McCormick
Grow Mental Health, Co. Laois
How to support someone who is unwell
How to maintain your mental health
Have you an interesting story that you would like to share? Now is your opportunity. Grow Mental Health is looking for people who would like to practice their storytelling skills.
It could be a story you read about somewhere. Maybe somebody told it to you. It might be a short story that you read and enjoyed. Maybe even one you wrote yourself! Perhaps even a short poem.
Everyone has a story: What about yours?
Story-telling workshop for World Time to Talk Day
February 4th has been designated as World 'Time to Talk Day'. Everyone in the whole world is being invited to stop, take a deep breath and talk in relation to their own unique mental health needs and personal insights.
One of the ways that Grow in Ireland is supporting this initiative is by holding a first on line story-telling workshop in the Cavan /Monaghan area. The workshop 'Everyone has a story' is designed to support each participant in writing their own unique story. American writer Maya Angelou says;
'There is no greater agony than bearing an untold story inside you.'
This first workshop will take place from 7pm to 8.30pm and will be hosted by Eileen Clevenger the local area coordinator and Mike Watts, a board member and seasoned Grower. It is open to members of the Cavan/ Monaghan groups, but other workshops will become available around the country.
Other ways to share your story
Grow Mental Health is currently compiling a book of recovery stories for publication. Writing your story has many benefits. First of all it helps you to make sense of the past, to understand yourself in a different way and to realize that difficult times help us develop many valuable personal resources such as courage and perseverance. Telling your story gets rid of any stigma, allows you to begin to see your value and giftedness and allows you to evaluate what has been most helpful on the road to recovery.
Stories have huge value for others. We all gain hope through hearing other people tell their story. Most of us remember clearly the first stories we heard in our early days of Grow. Lastly the written story can be of immense value to mental health practitioners who have not experienced deep mental distress personally.
If you have been in Grow Mental Health for a while and would like to help by telling your story please contact your Area Coordinator or email Mike at mikeahwatts@gmail.com or ring 0863352368 and you will be sent an information leaflet.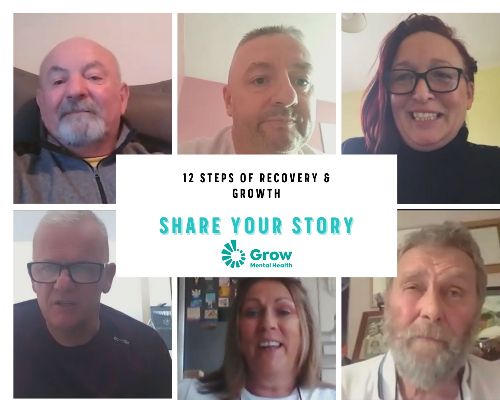 We are looking for Seasoned Growers to take part in the second half of Grow's YouTube series.
Based on the 12 Steps of Recovery & Growth, the second part will focus on Steps 7 to 12. An interview will take place on Zoom on each step with one member speaking on each.
We are seeking members who are comfortable sharing their story on video in an open, honest and clear way. Candidates will be selected based on their suitability- some may be better suited to audio podcast or print media and this option will be provided to them if appropriate.
If interested in sharing your story in some form or another, please contact: traceyhallora@grow.ie or siletracey@grow.ie for further details. If you would like to nominate someone suitable, please get in touch and we will reach out to them.
I am new to Grow Mental Health since last year. I don't have any mental health issues this year or anything that I am concerned about thanks to my Grow meeting every Monday.
I live alone and have disabilities. To have the group in my life and now their friendship is a lifeline to my life. I have told so many people about Grow Mental Health and what it means to me in my life.
It's such a comfort to me as I been living alone for 30 years. It's a lonely life. I thank my lucky stars that I took my first step to ring Grow and little did I know that the bright light in my head started to glow and I have far more interest in life again.
A long time ago I was in hospital, Tallaght Psychiatric Hospital. 10 months in, out 3 and back in 2 at this stage. I guess the nurses knew me. I was struggling. Swinging from depression to psychosis. One night the suicidal urge came on strong. I am an introvert, and it was like my introversion caved in on itself, collapsing like a black hole. I was in bed and it being around 11.30. I think. The ward was dark and quiet.
In my past experience when you look for help at night, the nurses want you to go back to bed and not cause a disturbance. But I got out of bed and went to the Nurses Station. I stood in the doorway and explained to the nurse, John, how I was. To my surprise, he invited me in. I took a seat. John offered me a cup of tea and put the kettle on. John was not rushing me.
He struck up a conversation and quick enough we were talking about fishing. I got offered a biscuit. Another nurse I will call Kevin was working on some paperwork. However, he too looked up often and joined in. The biscuit and the cuppa were nice. I felt calm and safe. I smiled and nearly laughed.
I enjoyed that simple talk and the cup of tea on that dark night. After 20 minutes, I guess, I said I felt better and returned to my bed. I quickly fell asleep. That night is a cherished memory.
I will go by what iI know,
NOT
by how I feel
– 1 of 5 Determinations –
The Grow Program The Wicklow Grow group has been nominated and awarded with Tesco Community Fund – Blue Token cheque for €333.33.
This group has been awarded with Community Fund award a few times in the past – the message of hope brought to Wicklow people has been recognized and appreciated.
Even though Blue Tokens urns have been removed from Tesco stores nationwide due to Covid 19, the management of Tesco store in Wicklow Town recognized the importance of mental health support group available in the community. The representatives from Wicklow Grow group couldn't have been awarded the cheque in person and it has been posted to AC Izabela Morris.
A cheque for €333 was presented to Roscommon AC Theresa Brennan by Tesco in Carrick on Shannon through the store's Blue Tokens initiative. Theresa applied for the funding last February to raise money for Grow Mental Health in her local area, perhaps using some of the money to organise a day out to the beach, although it seems an impossible dream for now.
Theresa's two groups in Castlerea and Boyle are doing well, despite the majority not being able to access online meetings. Some of her members have amalgamated with the Charlestown group in Mayo and Theresa connects with the other members over the phone.
"The Boyle group are doing fine, said Theresa, "They have been in the group for years and their friends apart from the Grow group. They ring and text each other regularly. I ring them most Fridays or they ring me or text me and said they are going to do a task and a bit out of the book."
The funding from Tesco will be of great benefit to the area and Theresa is hoping to apply again In the future, as well as looking for other funding opportunities she can apply for.
Grow Mental Health is requesting everyone to send on any messages of thanks, which they have either shared or received from within the Grow Mental Health Family since Covid-19 began.
See the image below as an example of what we need people to forward in to us. A photo or screenshot can be taken of any cards, text messages or emails that are suitable. Any names will be removed from the messages to ensure confidentiality before use. Once we have enough messages, we will create a video of thanks to be shared online.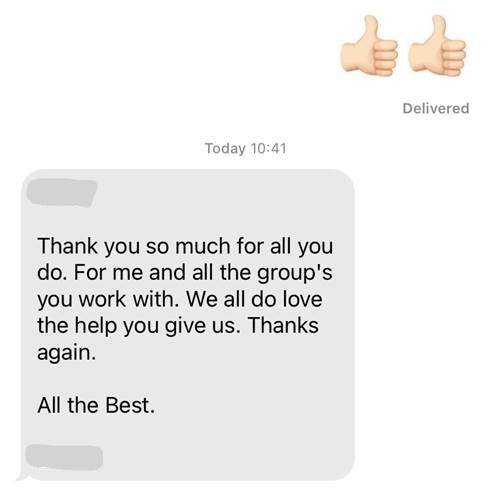 One winter's evening, having finished work in Bantry, driving past the West Lodge Hotel I received a phone call. I knew that mobile reception on my journey home to Cork city would be poor, so I pulled over to the side of the road, at a safe spot, turned on my hazards, turned off my lights and stayed chatting on my mobile. The same evening I was going home to an empty house and so I was in no rush – I stayed chatting on the phone for ages.
During that mobile conversation, I watched as a car drove towards me, did a U-turn and pulled up behind me at the side of the road. I described to my caller "this is strange, a car has pulled up and now a man is getting out and he's walking towards me". I immediately turned on my car's engine and lights (ready to make my escape) and as the man approached my car, he stood a good distance away from my driver's door, in fact putting himself at risk by standing in the road and waved gently at me. I opened my driver's window (cautiously but enough to hear him). My mind was racing. A car parking behind me in the dark, a man approaching me – why? What could he want? He then asked "Are you okay? It's just that I passed your car a couple of times and I wanted to make sure you're okay and that everything is alright for you. Are you sick?" I explained that I was chatting on the mobile while I had phone reception and I thanked him. He returned to his car and drove away.
This story may seem trivial, however, my point is – our lives are ruled by our perceptions. Had I immediately driven away without speaking to that Good Samaritan I may have assumed I escaped from a potential attacker! From Attacker to Saviour in one fell swoop. I was right to be cautious, however my perception was wrong.
What is perception? Perception is the recognition and interpretation of sensory information. What that means is we take information from the world around us through our senses. We interpret and respond to that information using our brains, based on our previous experiences. For example, we watch, look and listen before deciding when it's safe to cross the road. We are careful to eat food when steam is rising from it in case we burn our mouths. We decide about people we meet based on split-second information – we see a person in a fine tailored suit and decide he/she works in an office for example and might even go so far as to decide what job they might do.
Perception is a dominant force in our lives. People act in a certain way because they are concerned as to how others will perceive them. In other words, we alter or avoid certain behaviours based on our assumptions about other people's perceptions of us. Worrying about how others perceive us is a waste of time. Do what you want; wear what you want; go where you want; say what you want – within the confines of the law and general kindness.
It is important to respect current restrictions and guidelines but right now we have 5km in which to walk / run / cycle etc. Go out and use that space and try not to worry about how you look. People often say they are not comfortable being seen exercising outdoors because they do not look fit enough – well, there is only one way to improve our fitness levels! Stop trying to think about what others think of you.
Why should other people's perceptions of you matter? Your perceptions of you are important because they impact on your outlook and behaviour. Start to pay attention to how you perceive the world. Is your glass half full or half empty? If you perceive the world as good you are more likely to feel content and happy. Try to challenge and change your perception in a positive way – ask yourself about the evidence you have to support your perceptions.
Your long-held views, beliefs and perceptions may be incorrect, but the good news is they can always be changed!
Face-to-face services are limited at the moment because of the COVID-19 (coronavirus) outbreak. But a number of HSE services are providing online and phone services.
These are listed below and include:
online counselling and support
phone support
text support
Grow's 5-level Pandemic Plan
By the Return to Groups and Work Committee